Fay Kahn - Watercolors
---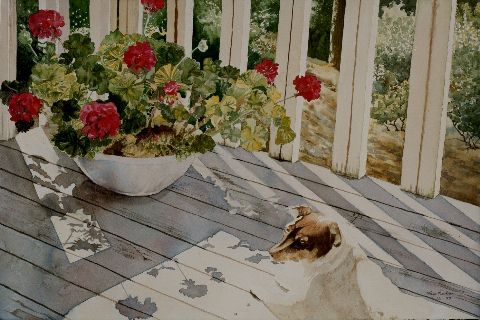 Sweet Geranium Afternoon - 1999
---
Fay's Paintings:
---
Biography:
I was born and raised in rural upstate New York. After high school I attended Hope College in Michigan and earned a BA degree in the Humanities and a teaching certificate in elementary education. My career included experiences in teaching fourth grade, remedial reading, community education with seniors, and preschool.
I have had the opportunity to travel across the United States, camping and hiking in many of the national parks and forests. I moved to Vancouver, Washington, USA in 1979 where I met my husband Marc. We have two daughters, Susanna and Celeste.
I have enjoyed trying many art forms throughout the years and, since 1998, I have been taking classes and workshops with local artists to learn about watercolor techniques. I am a member of Southwest Washington Watercolor Society, and serve on their board of directors.
Contact Fay by email at Fay@Shotei.com .