"Shōtei" Prints Not In The Catalog
As far as I know, I am the only cataloguer of the printed work of Takahashi Shōtei. This is a responsibility that I take very seriously. It is essential that the integrity of the catalog be protected by not adding prints which can't be proven to be Shōtei's work. The major criteria for inclusion is that a print must have either a Shōtei, Hiroaki, or Kakei seal and/or signature.
On a regular basis, collectors get in touch with me to share a previously uncataloged image. In most cases, I agree that it is Shōtei's work and the print is added to the catalog. However, on occasion a print which has been attributed to Shōtei is lacking the required seal and signature, and I have to exclude it.
The purpose of this page is to document prints which have been excluded from the catalog. Perhaps some of them truly are the original work of Shōtei. Could be...
To view a higher resolution scan of any of these images, please click on a small image. If you have any thoughts to share, please get in touch.
---
Prints which used to be in the catalog:
Here are some prints that used to be in the Shōtei catalog, but have been removed:
M-65. Mt. Fuji from Kiyomi-gata Beach (Monocolour)

When I first started the Shōtei catalog, I populated the mitsugiri-ban format prints (M-1 through M-65) by copying the titles of the 65 "Panel Size" prints attributed to Shōtei or Hiroaki in the 1936 Watanabe catalog. The ones lacking images had the picture to the right "Not Yet Available". Ultimately, I found examples of the first 64 of those, but was never able to find an image of M-65.

In January, 2006, I exchanged emails with Shoichiro Watanabe, the grandson of the founder of Watanabe Color Print Company. Watanabe-san verified my suspicion that this print was planned at the time of the 1936 catalog, but had never actually been published. Therefore, M-65 was removed from the catalog.
M-81. Geisha on boat in moonlight
This print doesn't have a seal or signature. I don't remember the circumstances which led me attribute it to Shōtei, but it doesn't look to me that it was design by him. My bad...

S-11. Fisherman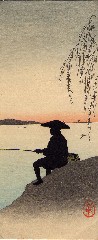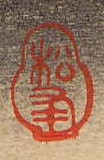 This print is also documented in the "Silhouettes" section below. It enjoyed a place in the Shōtei catalog for more than a year as S-11. That was my mistake. I saw the familiar "Shō" kanji character at the top of the seal, and never really looked at the lower character, which reads "nen". This "Shōnen" seal probably refers to the artist, Suzuki Shōnen (1849-1918).

S-75. Takinogawa
When one of my valued correspondents, a collector of postcard size prints, found this print listed in an on-line auction in April, 2003, he got in touch to tell me about his find of a new Shōtei print. I had a look and it looked to me like a legitimate Shōtei print, so I added it to the catalog. It still looks like a legitimate Shōtei print to me today.

In late 2014, as I was converting the format of the Shōtei catalog from static to database-driven, I needed to populate a new database field which specified the name on the artist's seal. Unfortunately, I was unable to read the seal on this print. Considering my hard requirement that for a print to be included in the catalog, it must have a seal reading either Shōtei, Hiroaki, or Kakei, I had to remove S-75 from the catalog.

Hopefully, someone will find another copy of this print and send me a clear scan of the seal which will allow me to add the print back into the catalog. I truly believe that this print was designed by Takahashi Shōtei.

---
Kanda Matsuri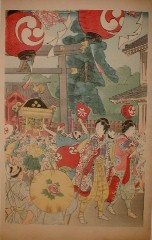 This woodblock print was included in the English language "Nippon Today" which was jointly published the the newspapers "Osaka Mainichi Shimbun" and "Tokyo Nichinichi Shimbun". Credit is clearly given to "Hiroaki Takahashi" in the accompanying printed text, however there is neither a seal nor signature in the image. It was not easy to exclude this print because it belongs to a good friend and fellow collector who is convinced that it is "the real thing".

He says: There is no signature, no seal, no publisher's seal, no watermark nor is there any indication to the designer's credit on the print. However, there is a "credit" sheet which gives the story of the festival, the title of the print (Kanda Matsuri) and the name of the artist in no uncertain detail. The print is by Takahashi Hiroaki, There are 8 art "objects" in all, only one of a woodblock print. The remainder appear to be special photographs or drawings. One of these is by the woodblock print artist, Miki Suizan, but it is not a print. It was jointly sponsored (published ?) by the Osaka Mainichi Shimbun and the Tokyo Nichinichi Shimbun (newspapers). It was issued in portfolio form in September of 1940. Very interesting. It is real.

This print, and our little controversy about it, is what made me decide to add this page to the shotei.com website.
---
Snow Scene Signed "Fuyō"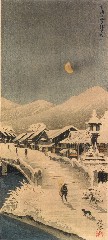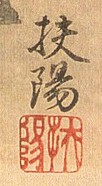 It is common knowledge that "Fuyō" is an early go (art name) of Narazaki Eishō. This print is clearly signed and sealed with the name "Fuyō", therefore, it won't be included in the catalog.

However, I'm not buying it. Everything about this print screams out to me "Shōtei!". The composition, the subtle coloration, the characters that I'm using for wallpaper on this page, even the dog. There is no doubt in my mind that this is an early Shōtei print. "Fuyō" must have been a house name, used by multiple artists. Of course I can't prove it, but that's what I get from this print.

My distinguished colleague, Shimizu Hisao, curator of the Ota-ku Folk Museum, author of 2 books on Takahashi Shōtei, and owner of the most extensive collection of Shōtei prints in the world, disagrees with me on this. He is certain that since this print is signed and sealed "Fuyō", that there can be no doubt that it was the work of Narazaki Eishō.

---
Senjafuda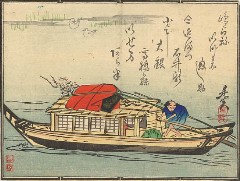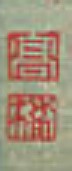 There are about 20 senjafuda prints for sale in an on-line gallery which have seals reading Takahashi. The owner of the gallery suspects that these are the work of Takahashi Shōtei. In fact, these are the work of another artist named Takahashi Tonosuke who was active in the 1910s.

To my knowledge, Shōtei never used his family name when either signing or putting a seal on any of his artwork.

---
Silhouettes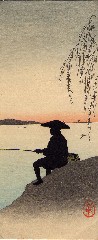 Shōtei designed some marvelous prints with characters in silhouette. These were some of his most popular prints and they attracted imitations from other artists and publishers. Most of the imitation prints have the silhouetted figures in solid black. Shōtei's shadow people were almost always done in black and grey, as is the figure carrying the lantern in the background of this page.

The unsigned/unsealed horizontal print above was sold on ebay in early 2003, attributed to Hiroaki. On the back of the framed print was a label from the Kabutoya Gallery naming Hiroaki as the artist and giving a date in the 1950s. Hiroaki died in 1945. It is all too common for reputable galleries to give mistaken attributions. Caveat emptor!

The fisherman print is documented as S-11 in the "Prints which used to be in the catalog" section above.

---
A Silhouette with a Signature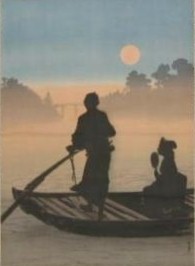 Here is a dai-oban print which was found mounted on a kakemono hanging scroll. The signature could be Shōtei's, but it's too calligraphic to be read with certainty. An argument against it is that the silhouetted figures lack the gray highlights mentioned above. So, the jury is out.

---