Shima Art Company
Recognizing Shima's Prints
Shima was a publisher of prints, and also a distributor of original prints produced by other publishers.
---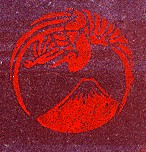 For their publications, they contracted with companies in Japan to oversee the carving and printing. A red Shima seal, like the one to the right, was printed within the image below the signature of the attributed artist.
The presence of the red seal establishes the print as a Shima-published print.

---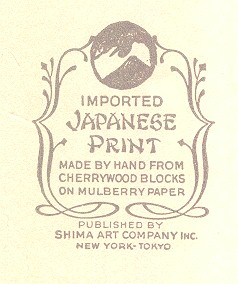 The smaller format prints sold by Shima, both with the red Shima seal and prints made by other publishers, were usually mounted on a stiff paper backing board within an embossed rectangular area slightly larger than the print. Just below the print the title and artist's name were hand-written in pencil. This presentation was considered to be "suitable for framing" and that's what happened to many of them.
The logo to the left was printed on the back of the mounting board, in the center. Despite the wording, not all prints mounted with this logo were actually published by Shima.

---