Yokohama Grand Hotel
1895 Dinner Menu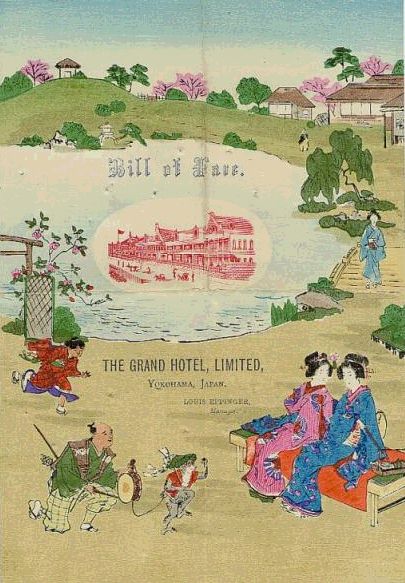 This menu was spotted in a Japanese on-line auction by modern day printmaker David Bull, who is certain that it was a product of Takejiro Hasegawa's atelier.
During the late 19th century, The Grand Hotel in Yokohama was considered the height of Western culture and elegance. Situated on the waterfront, overlooking Yokohama Bay, it opened on August 16, 1873. An early advertisement declared:
"The hotel is comparable in all respects to the hotels of Europe and America. Food is divided into two categories, regularly available and specially ordered, both of which we prepare with the utmost care. Moreover, as soon as orders are received, we can rapidly prepare special menus for between four and a hundred people. Please feel free to inspect the facilities inside the hotel. . . . The hotel's ability to produce specially ordered food for a hundred people is astonishing."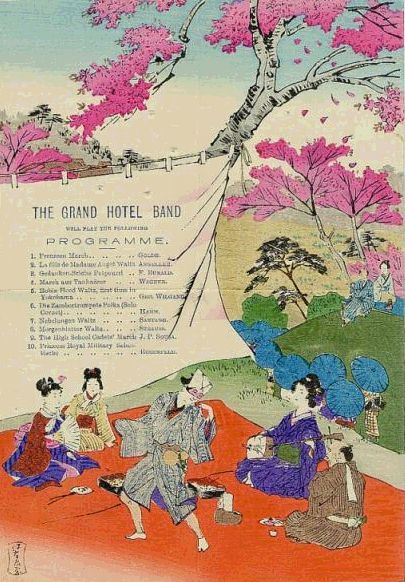 As travel to Japan increased, Yokohama became the main port used by foreign travellers. The Grand Hotel was "the place to stay" for the wealthy and famous.
In 1882, an Englishman named C. Dresser wrote a book called "Japan: Its Architecture, Art and Manufacture", in which he provided the following detailed description of the food at the Grand Hotel.
"Room rates were $3.50 per room per night, or about 14 shillings. The fish, entrees, and large slices of meat were served one after another, and for a moment I imagined that I was sitting in the Grand Hotel in Paris. Among the items that I was served were preserved meat from Crosse & Blackwell's Co., and marmalade and jam made in Dundee by Keillor & Co."
Rudyard Kipling was also once a guest at the hotel. He reported being astonished at the existence of printed menus, and that customers ordered food not by using the names of the foods listed but by citing their menu numbers.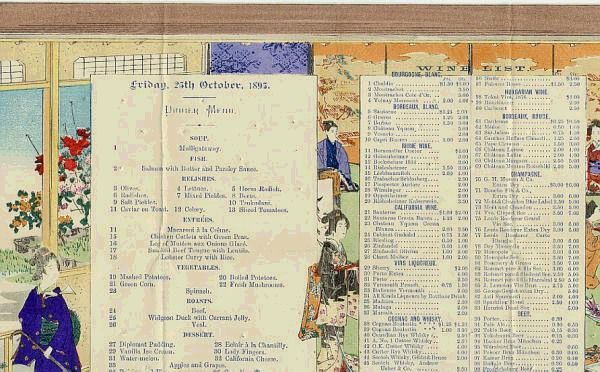 On September 1, 1923, the Great Kanto Earthquake generated a tidal wave which hit Yokohama and washed The Grand Hotel out to sea.
In modern times, the mushroom shaped Yokohama Doll Museum is on the precise spot where The Grand Hotel once stood.
---