The Case for Ishiwata Kôitsu:
The people at www.artelino.com are convinced that Tôkô is an art name of Ishiwata Kôitsu. Here's why: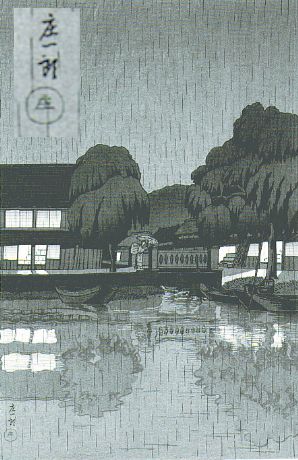 Ishiwata Kôitsu's birth name was Shôichirô, with the first character Shô being the same character in the seal speculated upon by Merritt and Yamada (above). The 1936 print depicted to the left titled "Tsuchiura at Dusk in the Rain" was published by Katô Junji, signed "Shôichirô", sealed "Shô", and attributed to Ishiwata-san.
He used different names for different publishers. Prints designed by him for Katô were signed Shô-ichi-rô. Prints designed by him for Watanabe were signed Kô-itsu.
Tôkô prints were only published by Doi. The Kô character from Kôitsu is the same character as the Kô in Tôkô.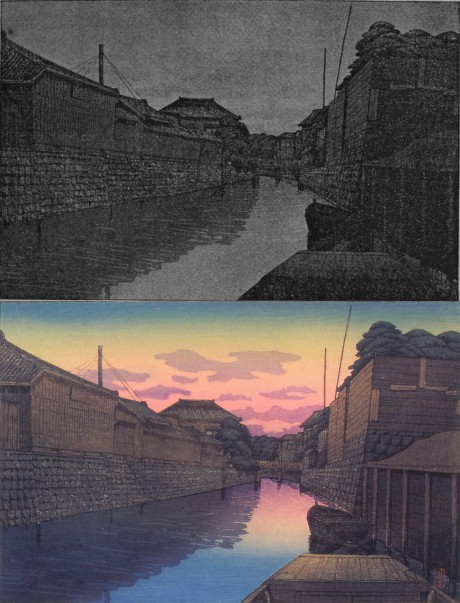 The following 2 prints were found by Tosh Doi.
To the right, at the top, is a drawing illustrated at page 325 of "Ukiyo-e Geijutsu Journal" published in November 1934. The artist attribution is given to "Ishiwata Tôkô".
Below, is a print with the Watanabe "C" seal and the artist's seal reading "Ishiwata". This print was sold in a recent JPAA auction. Having been published by Watanabe, it was attributed to Ishiwata Kôitsu. The title is "Choshi Minato Bashi", date of publication was January, 1932.
Clearly, this is the same image, attributed to both "Tôkô" and "Kôitsu".