Early Printed Work of Takahashi Shôtei
The earliest known printed work of Shôtei, from 1891, is documented on another page. Here we look at some other examples of his early work which appeared in various periodicals between the years 1894 and 1906. These are probably mechanical reproductions and not woodblock prints.
---
Worshippers to Taishakuten Temple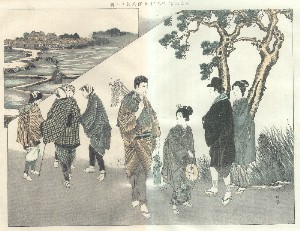 This drawing was published in June, 1894 in edition 73 of the periodical Fûzoku Gahô. The title text above the picture reads "Worshippers to Taishakuten Temple at Shibamata in East Katsushika, Tokyo". It was produced by offset lithography.

Click on the picture for a high resolution close-up view.

---

Night Return in Autumn Rain
This drawing was published in January, 1902 in edition 36 of the Nippon Bijutsu.

Nippon Bijutsu was a bi-lingual magazine (Japanese and English) with the stated purpose, of being "a monthly magazine devoted to the interest of the National School of Japanese Arts, intending to reproduce the best works of contemporary artists."

Please note that these images are from a microfilm database at the library in Tokyo. Unfortunately, some clarity has been lost.

---

Morning Fog
Published in February, 1902 in edition 37 of the Nippon Bijutsu.

---

Shôki God (driving out an evil spirit)
Published in May, 1902 in edition 40 of the Nippon Bijutsu.

---
Beauties in the Genroku Era
This picture of an original painted 6-panel screen was published in April, 1906 in edition 128 of Kaiga Sôshi. It was one of a paired set of folding screens for the Tatsumi Group Exhibition.

---
The images above are available due to the research efforts of Mr. Toshikazu Doi, of Tokyo. He has been very helpful in building many areas of this website by gathering information, breaking through the language barrier, and offering his valuable insights into shin-hanga issues. Doi-san, thank you very much for your help!
---