Stylistic Similarities with Shōtei:
Here, from 2002, are my arguments supporting my hypothesis that Kakei and Shōtei were the same person:
It seems clear to me that even the most skeptical observer must acknowledge that there is a common "feel" between the prints of Kakei and Shōtei. Here is a display of certain details extracted from Kakei and Shotei prints which tend to reinforce my theory that they are the same artist.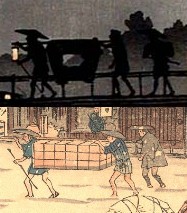 The Stride:
The upper image to the right is a detail from Shōtei print M-9, Evening glow at Sakawa Bridge. The lower image is from Kakei print M-142, Village in the Snow.
There is a certain point in the human stride where the trailing foot is about to be raised. The great majority of the figures in Shōtei's prints are pictured at just that point. It is interesting to note that Hiroshige also had a tendency to render his figures in the same position. Kakei prints C-51, S-138, and M-143 also have figures in the same pose.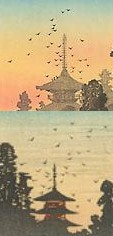 Pagoda Birds:
The upper image to the right is a detail from Shōtei print M-59, Vesper-bells in the village. The lower image is from Kakei print C-51, Path to Fuji.
I'm thinking that pagoda structures offer lots of nooks and crannies within which birds can nest or roost. But, when the bells ring, the birds are temporarily disturbed and fly around. In addition to M-59, Shōtei has captured this moment on prints M-88, C-21, S-3, S-9, and S-14, in the Shōtei catalog.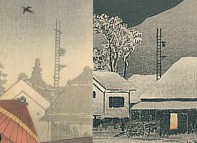 Fire Lookout:
The left image is a detail from Shōtei print M-56, Woman returning from a bath. The right image is from Kakei print M-144, Nihonmatsu.
Japanese towns, with light construction and paper walls, were quite a fire hazard. In order to catch fires before they might get out of control, many towns had fire lookouts, which resembled large ladders with platforms attached. It's unusual for an artist to display these, but Shōtei did. See also the background in print M-80.